Drivers Education Program Information Guide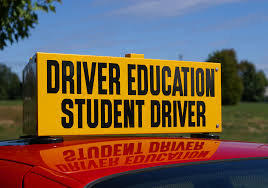 Hang on for a minute...we're trying to find some more stories you might like.
Driving for a teenager is a very scary thing, all of these new rules and regulations have to be followed and this can result in a lot of stress. This is why Hobart High School offers a Driver's Education Program. The Driver's Education program was created to slowly ease students into driving so there is less fear and stress involved as well as educate students on driving. Mr.Benton (The Driving Instructor) is offering courses for Drivers Education that will accommodate to your needs, the sessions being offered are as follows: June 12:30-2:30, June 2:30-4:30, and July 12:30-4:30. The program that is offered at the school only costs $300 which is a lot less expensive than most Driver Education Programs around Indiana, but you must be a resident of Hobart in order to be eligible to take these classes. Each class must fulfill a required amount of 30 hours in the classroom as well as 6 hours driving with a certified driving instructor that will assist you in any way possible to improve your driving. If this course is taken you will be able to receive your license 3 months earlier than the regular time which is a good benefit for those eager to drive. However, there are only limited spots available for this program so see Mr.Benton at room 2313 and get information on it before it is too late!