Adventure Awaits: Korean Teachers visit HHS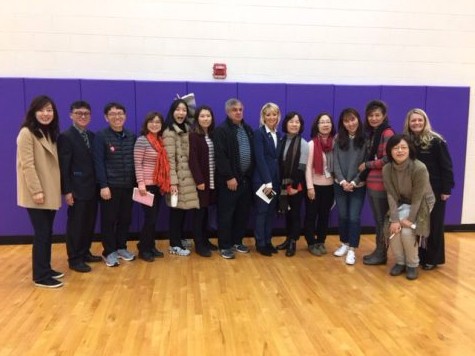 Hang on for a minute...we're trying to find some more stories you might like.
When we travel we have the opportunity to meet tons of new faces, to learn about a new culture and experience how others live their lives. Hobart High has welcomed some of these travelers allowing them to experience our culture and let them observe our education process. A group of teachers, counselors, and principals from Korea have arrived here and thrive to learn about the student-centered approach to learning in American schools. This group accompanied Mrs. Warren to gain experience at a local elementary school and middle school; to learn more about our education process they also spent two days at Hobart High School getting a chance to observe firsthand a high school in America.
As you continue to enhance your career, consider what it is like to take your career to another country and let others experience what you do for a living. This group of students is inspired to learn about how their careers are different in America and Hobart allowed them to do that. Allowing these students to come and visit our school was a true learning experience for not only them but all the people here at Hobart High. Those who had the chance to meet them gave positive feedback and really enjoyed this opportunity.
This visit opened up many different opportunities for these students. One day they are learning about how a teacher interacts with students, the next they are playing an instrument with students at Hobart High. It was not about the traveling or being away from home, it was about seeing what their lives are like in our eyes. These students had the chance to share what they are passionate about and show us what it is like for them in their country. The chance to meet these travelers and allow them to be a part of our lives is a great experience.
This experience of seeing how excited these students were to learn about another country is an inspiration for students here at Hobart High School to do the same thing they did. We can all travel and meet new faces any day,  but if you get the chance to share your life and see what you are passionate about do not pass the opportunity up. If you speak to these students you will hear all about their time here and how much they have learned. Allowing them to visit our schools leaves a mark on what your future could be like. Take the chance and experience your life in a different style.