Montego Bay Grille: Down town Duo
Written by Brandon Marciniak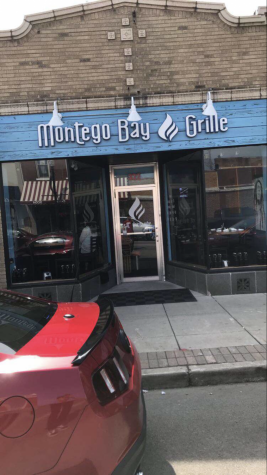 Montego Bay and Grille Resturant in down town Hobart
_________________________________________________________________________________________________________
If you're looking for a culture change and some great grub, we have the place for you. The Jamaican, "island vibe" feel restaurant Montego Bay Grille has been on the rise and is here to stay.
So if you're curious about the owner of Montego Bay, he is a great and experienced guy. The owner's name is Teddian Jackson and he is a veteran of the restaurant industry. He started off by working since high school in his native country Jamaica. He then continued his formal training afterward and went on to work in some of the largest hotels, cruise ships and casinos worldwide. Now what can you can expect while visiting Montego Bay? Hospitality and an island vibe are to say the least.
When asked the owner Teddian Jackson about what to expect, he said, "Hospitality! Matched by dishes that are cutting edge with global inspirations and appeal. Big City quality with an island feels like some of our guests put it."
The reason why you're going to a restaurant is the food. The food offered by Montego is appetizing, to say the least. So what can you expect? A variety of things. Since Montego Bay is based in Jamaica and the owner Teddian Jackson is from Jamaica, the food is based from there. Such as a variety of fish, seafood, poultry, steaks and vegetarian options as well as gluten-free items. However, the menu items work for everyone. The menu according to the owner is popular. "Since we do not have a traditional large menu which would consist of 'filler' items, every item on our menu is popular. We change our menu periodically to keep our guests intrigued."
If you're wondering how a Jamaican restaurant made its way to downtown Hobart, Mr. Jackson explained it well. "Our family lives in Hobart, we moved here 4 years ago. We saw that our downtown needed a spark as we had fallen behind in our economic growth when compared to neighboring cities' (downtowns). Therefore the decision was made to take the step in being pioneers in our City's rebirth by providing not just a modern restaurant but an attraction that would draw visitors in from near and far; hence providing revenue, training, employment and exposure for our City and our residents." After conducting the interview, it is an amazing thing that Teddian is doing. He is a guy looking for the best environmentally and economically for our city. Montego Bay is revamping our historic downtown.
The reason why Montego has had such success is due to the customers. Since opening just over a year ago, the business has been consistently growing. In Teddian's view, he had to say this about how he attracts his customers. "We do so by being true to who we are. We offer genuine products and services, there are no marketing tools that we could use that the large companies (our competitors) wouldn't have access to, they could outspend us 100 times over. We focus on treating our guests with a sincere appreciation. This is the driving force behind our business, people talk and people share their experiences. So it might be fair to say – our guests attract our guests."
If you're wondering if your age applies to fit in with the restaurant, I guarantee it does. When asking Mr. Jackson, he did not hesitate. "our concept appeals to, and is patronized by all demographics, from Baby boomers to millennials to Gen. Zs. Our focus is on relaxation, an 'island vibe', a vacation mentality; who does this appeal to? Everyone!"
So where can you find Montego Bay? Head on down to 322 Main St., Hobart. The hours are 11 a.m.-2 p.m. and 4-9 p.m. Thursdays-Saturdays, 11 a.m.-7 p.m. Sundays, closed Mondays and 4-9 p.m. Tuesdays-Wednesdays. You can contact Montego at 219-940-3152 or go to www.montegobaygrille.com.