As the season is nowhere near over for the Hobart cheerleaders, their coach explains how well the season has been so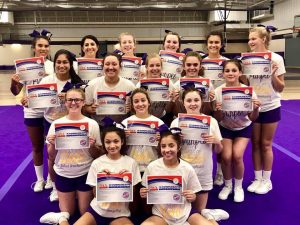 far. Kriste Bell, cheerleading coach had many great things to say about her new team of the season. Every year there is a new team, which means new girls. This year for the cheer team it is a very young team, with there only being three seniors. The team is going through a lot of up and downs, trying on how to work with each other. Kriste says in the interview "I can only expect it to get better from here." She believes that it takes a little while for the team to become completely comfortable with each and work together. The cheerleading team has only been through football season so far so they haven't made many competitive achievements but they've made many personal achievements. Many girls have been working toward personal goals for example stunts, tumbling skills or team goals such as community service. Coach states "they are already almost at 400 hours of community service." The team has done many community service opportunities starting from the beginning of summer to now. Once the girls get more into basketball season there will be more competitive factors with having basketball season and competitions. As the team is getting closer, they are starting to spend more and more time together. Last year their team was very close and always had a great attitude towards the sport. Kriste states,  "their genuine ability to get along and include each other, there was a very positive vibe." They are trying to get that energy back onto the team this year. 
There are always new goals and ideas as a new team is progressing. In sports, you have to work as a team to accomplish those goals and the cheerleaders represent this very well. Cheerleading is a team sport in every way so they have to work as a team to get where they want. Their goals for this season are to "continue building the team's strength and unity." In a sport, there are always ways to progress and get better. The team would like to continue to create a bond with each other and work with each other. Kriste states she just wants "a fun and successful competition season for the girls." The main goal is to have fun while still working towards achieving your goals. All of the new girls on the team are adapting very well to being on the team. It isn't always easy to just walk onto a team and be comfortable right away. But the older girls who have been on it are trying their hardest to help them adapt to high school and how it works. The girls are learning how to find their place and they're growing very well. Football season has been a big success for both teams. In the interview, coach states " It is a lot more fun to cheer when you're cheering for winning teams." The football team has done very well and the girls have had a lot of fun being apart of those special moments. As a high school cheerleader, you're expected to cheer on your team no matter what and the girls always do. Overall, the cheerleaders have had an extremely successful start to their long season and they are they're excited to continue the success.