September Athletes Takeover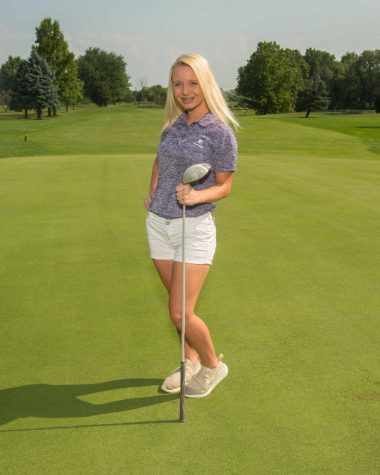 Becoming a student-athlete is no joke. From the hours of practice you put in pre and during a season to the amount of homework you have to balance on top of everything. Commitment is not a joke when you want to get recognition. That is just what these two athletes did. It's not easy to go out there and give it your all every game, every match, but these two are perfect examples of hard working brickies. They put the work in hard work. As we talked to Skye she said as being the main go-to golfer is very stressful and that having a set goal score for each match is her biggest stress, but when she does reach her goal each match she says it lifts a big weight off of her shoulders. "My dad is my biggest motivation for this sport", Junior, Skye Lipke said. As her golf season came to an end she went out with a bang. Shooting a 4-way tie to advance to regionals; although she did not make it past the four-way tie, shooting a four, but needing a 3, she has come out a better player and knows what she needs to work on, truly a gifted athlete.
On the other hand, Sophomore Tyler Turley is still hungry for more. As he has rewarded this position he was honored after overcoming a slight injury this season, all he wants is to "Have my boys backs", he says. As the postseason playoffs grow closer he told us that the team "plans on going all the way this year". "Football is a commitment sport and I'm committed", Turley said. He told us the team starts preparing for the next season from when they step off the field of their last game to when they step on their field for the first game. "No other sport takes as much commitment as this one does, well to most of us", Turley says. "Whenever this season ends, hoping it's not anytime soon, I have to be ready to get right back on my feet and train again, I wrestle also". After hearing from both of these committed and aspiring athletes, you truly get a slight insight into how their point of view is. As a brickie, you want constantly work hard and giving it all is who we are. These two are perfect examples of that. Student-athletes have huge commitments and they fulfill them. As a spring student-athlete myself, I know just what it's like. These two deserve it for sure. Always remember, "All my life I wanna be a brickie, WORK, WORK, WORK!".