Marching band takes it to the next level
September 30, 2019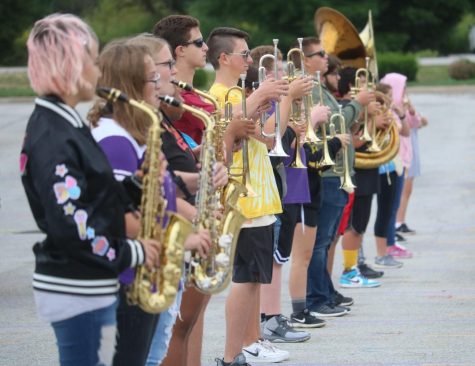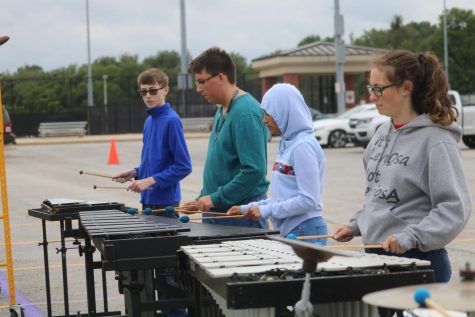 Marching band is more than just the uniforms and the instruments. The people behind those instruments are truly passionate and dedicated to what they enjoy. Taking part in a team and coming together to represent their school.  
 Hobart High School's marching band takes teamwork and friendship to a new level. Playing an Instrument isn't enough to get you through the marching band and it's competitions. Sweat dripping off your face and the sun scorching down on you is just beginning when practicing for half time shows and competitions. Spending hours outside while challenging the focus plus attention towards memorizing music and routines is hard work. However, with good performance results from students, they go to competitions to other schools to show off their talent, hard work and represent their school's pride. 
"You get to meet people from different schools. We see everyone's shows and the hard work put into them," Junior, Lymarie Herrera informed us. "A difficult part of being in marching band is band camp, the Fourth of July parade, and staying at attention in focus with your mind and body." 
At competitions, students have to face around 20-30 schools in the state. It lasts the whole day, starting from 5:30 in the morning to about 11 at night. They come to school, get on buses to be transported to the school where the competition is getting held at, get ready, warm-up, and then perform. The marching band also creates good sportsmanship and support systems by cheering for fellow marchers as well as other schools. 
A lot of marchers often like to joke about the horrible tan's lines and sunburns they receive. It takes determination to keep playing even in the rain, instruments, and papers getting soaked in the process. We can't even imagine. "Every other day we practice after school for two hours learning our spots and moves. The heat is difficult," Lymarie added on. 
When being asked what they enjoy the most, Lymarie said earnestly, "Marching band keeps me and my friends together. We work as a team and put together a show." 
Countless hours have gone into football games and competitions this marching season. And their hard work pays off because at each competition they received gold ratings. Even in hot weather wearing those eye-catching uniforms, cooking from the inside out, they still put on a brilliant show. It would be a shame to miss it. Check out the Hobart Marching Band at the homecoming game on October 11th and the senior night game on October 19th!