The Journey to Passion, Purpose, and Success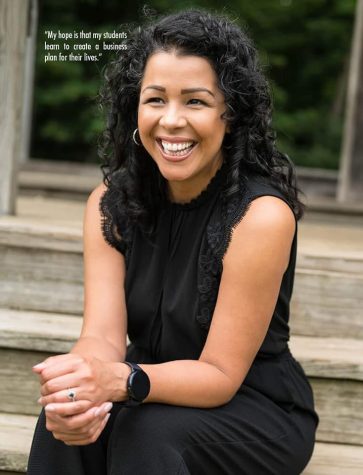 Childhood
Mrs. Torres, what most students know her by, however, outside of school she's a mom, a wife, a dancer, and a chef. Growing up she enjoyed spending time with her family. Her favorite childhood memory is her father surprising them with a trip to Florida in a camper. It was fun because it was her father's first time driving a camper.  It was difficult for him to navigate since he was more accustomed to city life, however, they had a great time. She recalls items falling off the top of the camper and getting a flat tire as they drove through the mountains within Tennessee.  They went to Disney World, Universal Studios, and Sea World. A value her parents instilled in her while growing up is work ethics and being independent. Her first experience in the working world was setting up her own babysitting business. She learned the importance of managing money and practicing time management.
Education
Her first thought of being a teacher was introduced by her guidance counselor who suggested she become a bilingual educator and interpreter, however, she later found out that was not her passion. In 2008, there was a big transition of people from Corporate America to becoming teachers and she knew then, there was a big opportunity for her. Since then, she planted that seed in her head and later entered the teaching world in 2014. This courageous decision altered her life, allowing her to be an inspiration to others through spreading knowledge. While she tries to balance her teaching and personal life, she says it can sometimes be a challenging transition for her especially since teaching is one of her passions. She ensures her business students have access to resources to be well prepared for their different paths in life.
Personal Life
Outside of school, she enjoys cooking and watching various food channels like the Food Network. When it comes to cooking, she likes to take a leap of faith and try new dishes or cook Latin cuisine like enchiladas or fried plantains. She also enjoys dancing, specifically Latin dances like the salsa and bachata. One of the places you can always find her dancing is in her kitchen.  "I'm always salsa dancing and doing the bachata…anywhere I find a dance floor which is usually my kitchen", says Mrs. Torres. Other hobbies of hers include catching up on business news, reading self-help books, and listening to podcasts. " I like to sit in my bedroom and listen to 1-hour podcasts and find out what's going on in business economics…I'm a nerd that way", says Mrs. Torres.
On the weekends, she makes sure to devote her time to her family and ensure her household is taken care of. If she had the opportunity to travel anywhere in the world, she would go somewhere in Latin America to enjoy various foods, view the architecture, and go to a music concert. Her favorite personality trait about herself is the lack of jealousy she has towards others. She says it later leads to a life full of anger, frustration, and insecurities. Her practice of this has helped keep her mind focused. Her biggest competition in life would be herself because she's always looking for ways to improve in areas of her life. If she wasn't a teacher she would be a choreographer because of the expression it brings her.
"
Don't chase the money, chase the knowledge because gaining the knowledge is going to help you accomplish your dreams"
— Valentine Torres
Advice to Students
Her advice to students thinking about going to college or expanding their careers would be to go after what you want and find a career that would help you become a better person in society.