Passion of Ann Janda
Kindhearted and happily fitted!
"Passion of Ann Janda"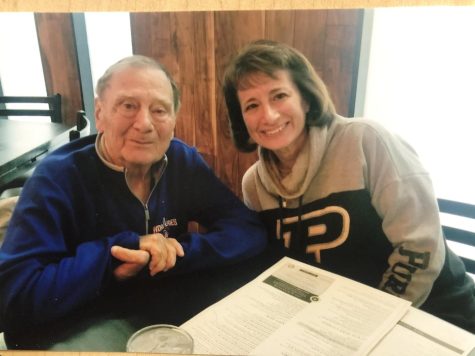 Ann Janda is one of the most positive people that are in the education system. Janda is a 51-year-old teacher who enjoys her career and enjoys hobbies such as Cross Stitch, Knit, Go Biking, and Collecting Disney Merchandise! One of her main motivators in the field of education is the ability to help kids learn. Which makes her ideal and every day is happy to come to work! Growing up and to this day, her idol has been her grandmother.
The reason behind this is that her grandma came all the way from Italy to here and made a living without knowing anything about America as a whole. No matter what came in her way, she kept her head up and pushed through all the problems until she accomplished what she wanted. Back in the olden days when schools were less secure, she would come and learn English! That is dedication! She is actually the reason Janda enjoys knitting and cross-stitching because of the fact her grandma enjoyed this exact activity day in and day out.
Back to the education career part, her favorite subject has always been Math, the subject she struggled the most with is History class. The reason she pursued the math portion of the education system is that she enjoys teaching it to kids that don't really understand the subject the easiest way that she could. She believes that she was gifted since most people who enter the Education Field end up hating their job because they don't have the passion to overcome the challenge, and for her, she enjoys all the different types of people that come to her, rude or nice, it's a new experience and the fact she can help whoever is what makes her enjoy her career!
She would never wanna own her own school because of the fact, "I wouldn't get to teach!" Hearing this shows how much she cares about helping and how much she truly loves her job, money wasn't the plan, helping was the plan and every day she comes to work ready and happy to help the next student. I then decided to ask them "If you can change one thing about your life, what would it be?" She responded with how she would give her children more memorable experiences instead of working as much as she did… As times got busier for her the less time she got to spend with her children in which they grew up too fast. She knows there are millions of experiences they have but if there were just a million more she would feel better. Now as they get older, there is less time to plan with them.
But as they got older, the more freedom she has and she wants to get back into taking piano lessons. Growing up she played the piano extremely well and she misses every second of it. As her children graduate and she gets closer to retirement, she is hoping to start taking piano lessons once more and become better than the best she was before! 
What is your favorite quote? I Janda this and she responded that she has many, but one quote she could remember at the time being, "Do one to others, as you want others you want to do to you." This quote is basically saying the golden rule with how one should treat the next person the same way you would want to be treated. "Would you sit next to the new kid at school? No? Well, what if you were that new kid, wouldn't you want somebody to sit by you because you are sitting by yourself. You have to put yourself in their shoes!"
In conclusion, Ann Janda enjoys coming to work every day and on the rare few times she is coming to school on a bad day, the students she gets to tutor and help, helps her get back on her feet!