The Hidden Gem of Hobart High School!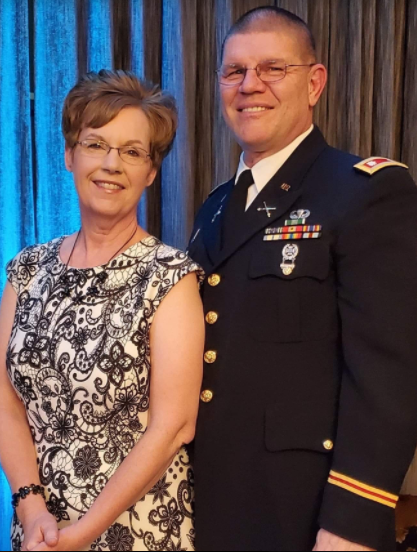 I was excited when I got the privilege to interview Colonel Buhman. I have had the pleasure to learn from Colonel for four years now! He's changed many young adults' lives, he trains us, shapes us, and teaches us for the rough life awaiting us beyond these high school doors. Colonel has served 41 years in the Army, and that includes all of the years he served here at Hobart High School. Knowing that Colonel has traveled to so many places I asked him which one was his favorite, and he chose Southern Germany and California due to the scenery, and peaceful lifestyle. I was so excited to get to ask him what his craziest memory was serving, and, not to my disappointment, he said it was when he jumped out of a plane, BUT what made it crazy was that his parachute was not opening! It finally opened, but so late that he cracked vertebrae. However, he toughened up and continued his mission not checking in with the doctors until it was over, what a champ! 
Colonel is one of the most intelligent people I know, so when I asked him what does he know that most people his age don't, it wouldn't be a difficult response for him. He said "How to get about any group of people to form as a team to accomplish something. Also that even though times have changed and sometimes it doesn't look like there's much hope, I know that there's is going to be a lot of good people that can be depended on." Which he has experienced every time the school year starts over. Picking which branch you go into can be nerve recking, so I asked Colonel if he had any regrets with choosing the Army, but he said no. It was challenging he said, but he welcomed the challenge. How do you go from traveling the world to settling down in a small town and becoming a teacher I wondered. His response was "As a teenager, I was the top graduate at my high school, but I also got in a lot of trouble. There were people in my life who set me on the right path. So, instead of focusing on making a lot of money, I wanted to come to a city like the one I grew up in, a hard-working blue-collar city, and to help kids grow into their futures, and work hard." All the Cadets in JROTC can confirm that he's making a difference indeed. 
What many might not get to see is that Colonel is a big family man! He's been married for 37 years to his wife Julie, has 4 kids, and has 6 grandkids. Serving so long, he's now in his 24th home. Spending a lot of time with Colonel I noticed he gives you good advice.. whether you ask for it or not. So I asked him if he had to say one thing to the student body what would it be and the wise man left us with these words "Hard work pays off, take responsibility for yourself, don't expect other people to take care of you,  don't be afraid to take risks to be successful, and don't be afraid to mess up sometimes!"