Patchables: The other side of the story.
Isis and Kaylas experience running Patchables while juggleing highschool, and clubs.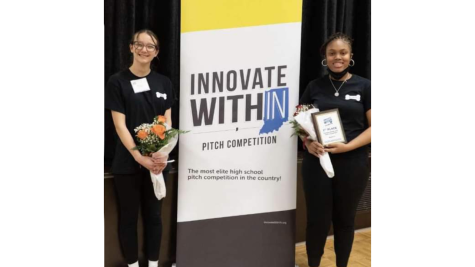 Isis and Kayla right after they won Innovate within
Isis Fleming and Kayla Davis were sitting in Isis' basement, trying to figure out their idea for Mr. Schultz's project. They had already changed their idea twice now. They have had 2 weeks to make a minute and 30 second video about a business plan. Then, after a casual conversation about dogs, they came up with the idea. The idea of Patchables. In this article, we will focus on what THEY went through to get where they are now.
"
"No one asks the mental/emotional  side of things."
— Isis Flemming
They won state, won regionals, have done podcasts, sold at the hobart market, interviews, ect. They started in Isis' basement, and now they are trying to go wholesale. Isis still makes all of the prototypes by hand in her basement, but Tradewinds, their partner, still makes everything else. 
They started with small dog toys, now they are selling medium dog toys, used to sell rope toys locally, and in the future they plan on making large and small dog toys, and expanding to cat toys, collars and leashes, which won't have a plastic piece to conserve plastic of the earth. They'll use the metal buttons from the jeans that they get instead.
I asked Isis and Kayla, "During regionals and state, how was it? Juggling highschool, clubs, and the competition at the same time?"  They responded,
"It was very stressful, there was a point in time where I did not get a full week of sleep, because I was taking caffeine pills and drinking coffee to stay awake to do the business and highschool classwork, while still maintaining decent grades." -Isis
             Isis was in softball, and theater. She was the assistant  stage manager during the show. She said, 
       "It was so incredibly difficult to juggle being assistant stage manager in theater, business, and highschool at once"
So, being super involved with school and after school activities it was a lot for the both of them. They both are very good students who keep good grades but their grades were affected  by all of this stress at once. Isis said,
     "My grades did suffer from negative backlash from it. I failed my math final because I couldn't focus. I could not keep my focus. But, that didn't  affect my thoughts on the business. I knew that what I was doing was going to help me in the end even if my mental health was unstable during that time." Now that the competition is over, I asked them about their mental health now,
"My mental state is definitely better, I quit my caffeine addiction, I am now 2 months free of caffeine." Isis said.  
The stress from everything was exhausting for them, but now they're past the competition and better than ever. The point that was their turning point was, 
"As soon as we found out tradewinds accepted our manufacturing, that's when we knew that this was going to work. They were talking us through the logistics. They were all supportive through everything" (Isis) 
But, they never truly felt successful. Even through the interviews, radio station, podcast, winning the competition,
"We'll never be truly successful until we can physically see our achievements like how many tons of fabric we saved from landfills and how many disabled communities have jobs because of us." -Isis and Kayla. 
They believe their key to success is devotion.
 "We genuinely believe in what we are doing. We want to see the world do better because of what we're doing, and it's that devotion that drives us."
When their sales are low, the thing that keeps them motivated is, 
"Falling back and working on prototyping so we can be better for our customers." They put every penny of profit that they make back into their business. They really just think of their customers and community. They have decided that they will not take any of the profit until they are seniors. 
Their end goal is,
"
"To make a difference, we want to know that the world is a better place because of us. We want to inspire young people and my community to do what we're doing because we believe that there is change in who we are, we just have to believe in ourselves and do it."
— Isis Flemming & Kayla Davis
They actually have advice for young people who are trying to get into businesses. Their advice was, 
"If you have a cause you genuinely believe in, contact us. Kayla and I are going to mentor peopleYou can contact us at [email protected] and [email protected]. There are people/ resources that will help you
 "be the change you want to see in the world." 
Something they'd say to them to keep them motivated would be, 
"If the cause you choose is something you truly believe in then you will have no trouble going forward. Think about how you're going to make a difference. It's those people that will keep you going in the end or your cause." 
With everything that they've done, their favorite part was the podcast, and getting to know eachother again. They were friends but grew distant towards each other, busy with their own lives. Then, they decided to partner up for this project. Now, they are full on business partners and their friendship is stronger than ever before. 
In conclusion, these young inspiring ladies started their own business at just 15 years old. They really care about the world, their school, their grade
s, and everyone around them. They have good hearts. They started out as distant old friends, and now they are full on partners and best friends.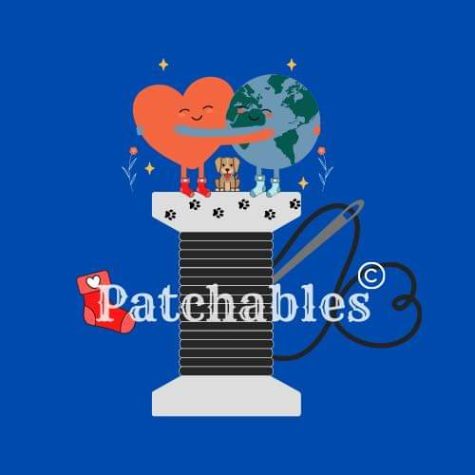 Patchables logo